From the
ATWB Customer Gallery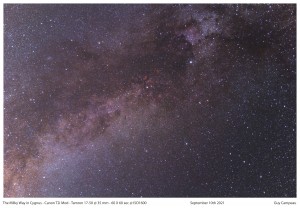 The M ilky Way in Cygnus
This auction is closed.
Philips Pixel Plus webcam 1.25" focuser READY super clean
Auction No.:

13182

Current Bid:

$21.53

High Bidder:

David Loyola

Bid History:

12 Bids [View History]

Location:

Spokane Vly, WA - United States

Started:

07/26/2021 10:26PM

Ends:

08/02/2021 10:29PM

Shipping:

Buyer pays shipping

Payment:

PayPal, Personal or Cashier's Check, Money Orders

Hits:

102
I think I got this back in 2015 or 16. There are different models for different years though they nearly perform the same. I no longer recall this model's exact mpn, so I won't recite it.

This is a Philips Pixel Plus webcam. It will come with its original, sealed new software driver disc.

I have this fitted to a 1.25-inch aluminum barrel. This camera will fit into ANY 1.25" diagonal, barlow or focuser. The USB cable is right at 7 feet in length and I used this to display images on my laptop at public venues or when the neighbor kids were over, but I didn't want them actually touching the telescope (gotta keep an eye on their fingers!!).

Lightweight and easy on the focuser. It weighs only 2.7 ounces.

It gave me very good images of the Moon, Venus, Jupiter and I tried it on Saturn with ok results. Of course, you can remove the ocular barrel and use this in your office as a high quality webcam. 
The rear has a stock #1/4-20 adapter so you can position this on a tripod pan head.

Cosmetics are very excellent on the entire camera body. Cord is mint. CD is new. Image chip and circuitry is mint.

All nations welcome to bid.
Andy Sedlacek (fct-150)
Rating:
(1692)

Telescopes, Astronomy, Binoculars