From the
ATWB Customer Gallery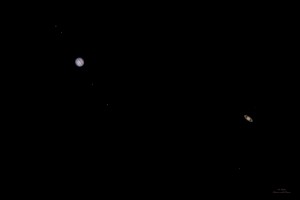 Saturn-Jupiter Conjunction 2020
Bushnell or Focal mini steel tabletop yoke mount
Auction No.:

12982

Location:

Spokane Vly, WA - United States

Started:

01/12/2021 09:15AM

Ends:

01/22/2021 09:15AM

Time Left:

Shipping:

Buyer pays shipping

Payment:

PayPal, Personal or Cashier's Check, Money Orders

Hits:

89
Pretty unusual, but useful little mount...

This is a 1982-85 years Bushnell or Focal (Towa of Japan) mini tabletop yoke mount. In the photos the legs are shown spread out to their widest angle. Each can fold inward and as you spread it out, they contact a flange, which not only limits the spread, it also acts as the brace in that the legs won't continue to spread further and collapse.
Because it is so small, the mount has no horizontal lock/control. You pick it up to position it and then would loosen one of the (2) bolts slightly to move the scope up and down. It is quite strong for what it is and I've used various 40mm to 60mm refractors on it in the f/4 to f/7 range.

Total standing height to center bolts: 11.0-inches
Inner separation of yoke: 2.18-inches
Yoke mounting bolts: M6-1.0
Spread distance across when on table: 10.90-inches
Will support: up to 60mm f/7 or 1 pound 7 ounces
Materials: steel yoke, legs, and hardware, nylon hard plastic hub
Weight: 9 ounces

The bolts that run through the threaded trunnions are aftermarket Celestron, but are a perfect thread match. Cosmetics on the tripod and yoke are very excellent for its age. No rust, no dents or cracks in the metal. One of the (3) rubber pegs are missing, but this is a very minor issue; works fine as it is. One of the yoke bolts has cracks in the hard plastic grip, but is working just fine and has for me for years.

All nations welcome to bid.
Time Placed
User
Bid Amount
There aren't any bids recorded yet.
Andy Sedlacek (fct-150)
Rating:
(1640)

Telescopes, Astronomy, Binoculars