From the
ATWB Customer Gallery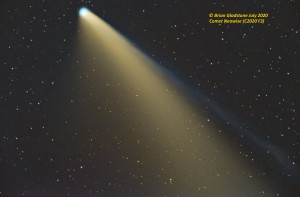 Comet Neowise c/2020 F3
This auction is closed.
Vintage Asahi Pentax 100 complete
Auction No.:

12865

Current Bid:

$1975.00

Reserve not met

High Bidder:

Tanveer Gani

Bid History:

31 Bids [View History]

Location:

Burlington, NJ - United States

Started:

01/15/2020 05:03AM

Ends:

01/20/2020 05:03AM

Shipping:

Buyer pays shipping

Payment:

PayPal, Money Orders, Cash

Hits:

692
Vintage Asahi Pentax 100 complete
1979
Purchased from the original owner. The telescope is in beautiful condition for a 41 year old high-end instrument. It has been loved and well cared for as you can see in these recent photographs. Nothing is broken, bent or damaged in any way. There are some normal scuffs and scrapes to the aluminum legs and a few scuffs on the mount but that's about it. Now, onto the sweetest part; the 100mm f/12 achromatic. The lens has never been touched as far as I'm aware and needs no cleaning even now. Glass and coatings appear perfect. As you know, these telescopes are known to have some great glass and this one lives up to it's pedigree in every way. You'll be quite pleased with it's lunar and planetary images. Pinpoint stars. Star-test reveals pretty and perfectly concentric rings either side of focus and a Ronchi test wasn't surprising; beautifully straight lines as you would expect.
The mount is an incredible work of art, quite a large and impressive design and very precise. No cutting corners on machining here. You'll feel the smoothness as you move the telescope around the sky. The drive tracks flawlessly. You also have this lovely drive corrector that sits nicely in the spreader tray. It includes the 12V fused plug to plug into your 12V battery.
Included is a nice addition to this package; (2) aluminum machined adapters for 1.25" accessories. You can use all your great 1.25" eyepieces as well as these wonderful Pentax eyepieces.
Includes
- Pentax 100, 4" f/12 achromatic (with cap and aperture stop-down)
- 50mm guide scope (with TeleVue cap)
- 6x30mm finder scope
- Prism diagonal
- Complete set of Pentax eyepieces, (Or-5, Or-6, K-9, K-12.5, K-25)
- (2) 1.25" adapters with Meade prism diagonal
- Solar Filter
- Solar projection assembly
- Complete Equatorial Mount
- Original very heavy duty cover for the mount head
- Fine-tracking knobs
- Polar axis finder
- Tripod (with triangle tray)
- RA motor unit (with clutch)
- Quartz Oscillator motor drive unit, (includes a red map lamp on bottom and power   source for an illuminated reticle eyepiece).
- Fine hardwood cabinet for the scope (Original)
- Custom well made cabinets for the mount and tripod
- User manuals
- All original purchasing paperwork and documents dated 1979

Sunglasses pictured are to help with scale and not included :)
Able to ship anywhere in the world and have done so many times. Will ship in (3) packages. Actual sizes and weights are as follows. Completed packaging will be slightly larger.
Scope cabinet 52" x 12" x 6", 30 lbs
Mount cabinet 32" x 17" x 8", 60 lbs
Tripod cabinet 60" x 12" x 4", 30 lbs

I welcome any questions about this classic. I hope these photos covered it pretty well but do let me know if you'd like additional photographs of any aspect of this telescope.

- Albert
Albert DeCandia (Albert1)
Rating:
(302)

Telescopes, Astronomy, Binoculars