From the
ATWB Customer Gallery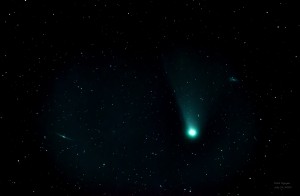 Comet Neowise with the Needle Galaxy: July 31, 2020
This auction is closed.
Zhumel 6 inch f/8 Achromat -- NO RESERVE
Auction No.:

12905

Current Bid:

$458.00

High Bidder:

Ed Blankenship

Bid History:

20 Bids [View History]

Location:

Torrance, CA - United States

Started:

05/16/2020 06:43AM

Ends:

05/26/2020 06:43AM

Shipping:

Buyer pays shipping

Payment:

PayPal, Cash

Hits:

517
NOTE: I've edited this listing, but I can't get rid of the shipping banner.  Buyer DOES NOT PAY FOR SHIPPING...only for UPS packing ($105).
6 inch refractors are popular versatile instruments for brighter deep sky objects as well as lunar, planetary, and double star observations.
The objeective in this OTA was used by its previous owner (Paul Rini) to test the eyepieces he made.  The folks at Stellarvue did a quick check (not a Zygo Test) and told me the Strehl ratio is about 0.90. As expected with a 2-element achromat there is some CA on bright objects like Venus, Jupiter, and the brightest stars.
Cosmetically, there are some paint scrapes:  notably 2 approximately 1 inch long and some superficial scratches on the dew shield, a 3 inch cosmetic scratch near the focuser, and a tiny spot on the tube.  There are a couple of discolorations on the side of the finder eyepiece.  I've tried to show all of these in the attached photos.  None of the cosmetic defects affent the images in the optical path. 
What's included:
OTA Tube
Tube Clamshell
50mm Finder Scope
Single-speed 2 inch Focuser
Celestron 2 inch Diagonal with a 1.25 inch Adaptor
Baader 2 inch Semi-APO Filter (which noticeably improves the chromatic aberration)
I am selling this to satisfy my wife.  I really need to get it out of my garage and into the hands of someone who can use and appreciate its light-gathering and high resolution. 
The winner will be the highest bid I receive by the time this auction ends.
Buyer is responsible for cost of UPS packing ($105).  Seller will pay to ship the OTA within the CONUS.
Les DeLong
lgdelong1943@gmail.com
(310) 508-6268
Leslie DeLong (palzm)
Rating:
(108)

Telescopes, Astronomy, Binoculars