From the
ATWB Customer Gallery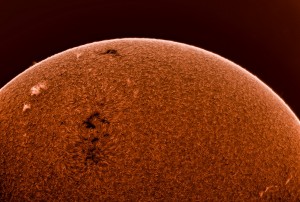 AR 2768 and AR 2769 from 8/1/2020 by John Small
This auction is closed.
Star Wars Incredible Cross Sections 1998
Auction No.:

12847

Current Bid:

$20.50

High Bidder:

Tom Dougherty

Bid History:

6 Bids [View History]

Location:

Spokane Vly, WA - United States

Started:

12/07/2019 10:31PM

Ends:

12/14/2019 10:31PM

Shipping:

Buyer pays shipping

Payment:

PayPal, Personal or Cashier's Check, Money Orders

Hits:

126
All of us here viewing this auction I have wrote are going to be one of many in a category of users. You are a refractor or a reflector or a cassegrain person. You are a plossl, orthoscopic, or widefield user. The telescope you use is either equatorial or altazimuth in nature. You are into planets and double stars OR galaxies and globular clusters.

And while we are at it, many of us go beyond the instruments and scientific black-and-whiteness of space and begin to fantasize. Imagination in the mix of all this science makes it more fun anyways.
So then, at some point you are going to be into Star Wars, Star Trek, Stargate, Rick And Morty, and let's not forget Futurama.

If you are a Star Wars nut, this book is for you.

This is a 1998 Incredible Cross-Section book from the printers DK (they do these with cars too!) covering various Star Wars vehicles from the TIE fighters to the AT-AT and Sand Crawler; a great deal of (though not all of) the iconic war, transportation, and general service machines are covered. This is a cross-section illustration book, so it is basically a x-ray like view of the machine being covered; you get to see all of its innards and what many of their purposes are for. It ads extra spice and fun to the movies, novels, and, well, culture of Star Wars.

I got this way back in late '98 and just before the emergence of Episode I, so this book covers only the first three-appearing movies of the 1970s-80s.

This is a particularly large bind, measuring in inches 14.10 L x 10.65 W

34-pages.

Lots to read and a visual feast that is easy on all eyes.

Cosmetics are mint on the inner pages EXCEPT for the Death Star fold-out; it is in great condition due to crease folds on the side where the book closed in on it. These pages are absolutely fully legible, but they are not perfect.
The spine is perfect. No note taking or tape evident. The hard cover body is in excellent condition all around and the decorative sleeve is in great, but not excellent, condition with minor rips and creasing at the top and bottom edges where it was rubbed in the book cubby.

I've enjoyed this more than you know, but finally ready to let it go. Would make a GREAT Christmas gift to a SW fan.

All nations welcome to bid.
Andy Sedlacek (fct-150)
Rating:
(1629)

Telescopes, Astronomy, Binoculars