From the
ATWB Customer Gallery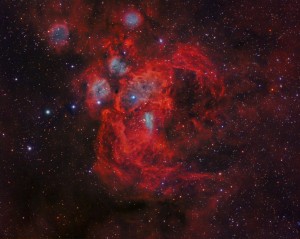 NGC 6357 Lobster nebula
CARL ZEISS AS 130/1950 (F.15) STEINHEIL DOUBLET OTA
FOR SALE: Very rare C. Zeiss AS 130/1950 s.n.72763 (Steinheil doublet lens designs -Semi-Apochromat, performing perfect airy disk patterns), custom made OTA: CNC machined aluminum tube, internal baffles, high quality 3" M68/2" R&P Titanium Focuser (from CZ design) made by Baader P. Cradle, tube rings and tube cw, from original 5" Unitron OTA. Including a custom made finder with CZ 50/540 lens and OR f.16mm Reticle eyepiece (33X). Portable soft bag included and optional sturdy flight case with wheels for carriage.
This  is a great Solar system and double stars performer. All in very good & perfectly working conditions. Will ship anywhere with safe, professional packaging.
Asking € 7000,00 ($ 7800.00) + shipping costs.
Thanks for reading, have a great day.

Telescopes, Astronomy, Binoculars