From the
ATWB Customer Gallery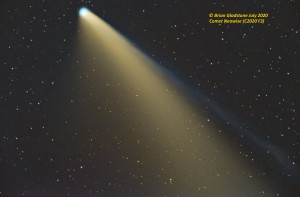 Comet Neowise c/2020 F3
Astronomy, Sky & Telescope, and Astronomical Calendar -- many years worth!
Have many back years of the
Astronomical Calendar, Astronomy Magazine,
 and 
Sky & Telescope
.  
Condition is good to very good.  Samples shown in photos.  $15 price is per year (12 issues); discounts for more than one year or in person pick up.  
Here are the details.  
Note:  several years of Sky & Telescope have been sold.
Astronomical Calendar from 2002 to 2016
2002-2012 & 2014-2016 (missing 2013; if I find it in the house, I'll include it).


Astronomy Magazine from 1983 - 2012


       Selected issues 1983 to 1984:  November, 1983; January, May, July-December 1984.
       January-November, 1985—missing December 1985.
       January-December 1986, all 12 issues.


       Selected issues from 1987 to 1990:  January, Mar-Oct, 1987; Feb, July 1988; Dec, 1989; May & June, 1990.


       September 1992-August 1993, every month.
       1994-2000, all 12 issues each year.
       June 2001.
       July 2002-June 2003, every month.
       August 2004-July 2012, every month.


Sky & Telescope from 1980 to 2018


       Selected issues from 1980 to 1992:  January-April 1980; December 1983; August 1984; May 1985; August 1986; April, July, August, 1987; January 1988; June & October, 1989; February, November, & December, 1990; March, August, & December, 1992.


       1993-2008, all 12 issues each year
.  
(Note:  2007 and 2008 have been sold.)
       2009-2018,
all issues except for October 2009, October 2014, & September 2018 (if I find them, I'll include them).
(Note:  2010-2018 have been sold.)
         Extras:
  Second copy of January 1993 with "Target Earth" & "Meade's New Reflectors".  Two extra copies of March 1997 with "Orion's Environs" & "S & T Tests Three Inexpensive Wide Field Telescopes".
Issues

       Missing a couple of insets—yearly calendars, 3-D glasses, subscription come-ons, etc.


       The covers are included for all of the magazines, although many of the early Sky & Telescope ones are loosely attached and some are loose and have been taped back on.  Nearly all the Astronomy Magazine covers are attached well to the magazines.


       In a few spots (in only a couple of the magazines), there are very short penciled or penned notations.

       As might be expected, there are some bent pages or turned corners (e.g., on covers).
Pricing
For Astronomy and Sky & Telescope:  $15 for one year (12 issues); $10 for each year after that. 

Shipping is extra.  Magazines, alas, do not qualify for USPS media rate.  A Medium Flat Rate Box costs $14.35.  A Regional Box B can be somewhat less for places in the eastern part of the country, but the cost depends upon where.  So, figure $11-14 per box (a box contains one or two years).
         In person pick up:  $5 per year; $2 per year for the 5th through 9th ; $1 per year for 10th  and thereafter.

         For Astronomical Calendar:  $6 per year; $4 each additional.  Shipping is extra, $7.65.   If it doesn't fit in priority legal mailer, we can arrange pick up in person.


Non-smoking household.   Priority will be given to those interested in buying multiple years.
PayPal or U.S. Post Office money order.   Continental U.S. only for shipping.   

If you decide to do a pick up, I live in upstate New York, a mile from Binghamton, about an hour and a quarter south of Ithaca, NY. 
Any questions, please contact me.

Telescopes, Astronomy, Binoculars