From the
ATWB Customer Gallery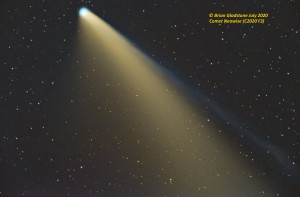 Comet Neowise c/2020 F3
Group 2: Optec Lepus .62x reducer with Custom Adapters for special use
Group 2:
Optec Lepus Telecompressor for use with my 
Group 1 Ad in Cameras
. I am offering with some special, custom adapters/holder that are not easy to describe, but I do my best...
New Lepus .62X 4 element telecompressor (19407) and below adaptors. Check the OptecInc official website for more info.
A unique, custom designed, adapter/holder for the Lepus .62X telecompressor that holds it at the correct 4.125" distance from the imaging CCD when used with the Group 1 STT-8300M with Self-Guiding Filter Wheel FW8G-STT, AO8T Adaptive Optics. See the separate advertisement (Group 1) in Cameras.
The distance is adjustable for fine tuning. Works together with the above adapter plate, GSO/Astro Tech focuser, and the above Group 1 AO8T/filter wheel/camera image train. Technical drawing available to serious inquiries.
Special custom made adapter plate so that I can directly screw the image train directly to the GSO RC10 3.25" Crayford style focuser (Same as used on AstroTech RC10/12" OTA's and others). This connection is more stable than the 2" nose piece.
With different focusers you probably need a different adapter.
If you don't want the holder/adapters, then knock off $75. 
Please advise any questions.
I am currently travelling outside USA, but returning to Baltimore/Washington DC area before Thanksgiving.
Roger

Telescopes, Astronomy, Binoculars