From the
ATWB Customer Gallery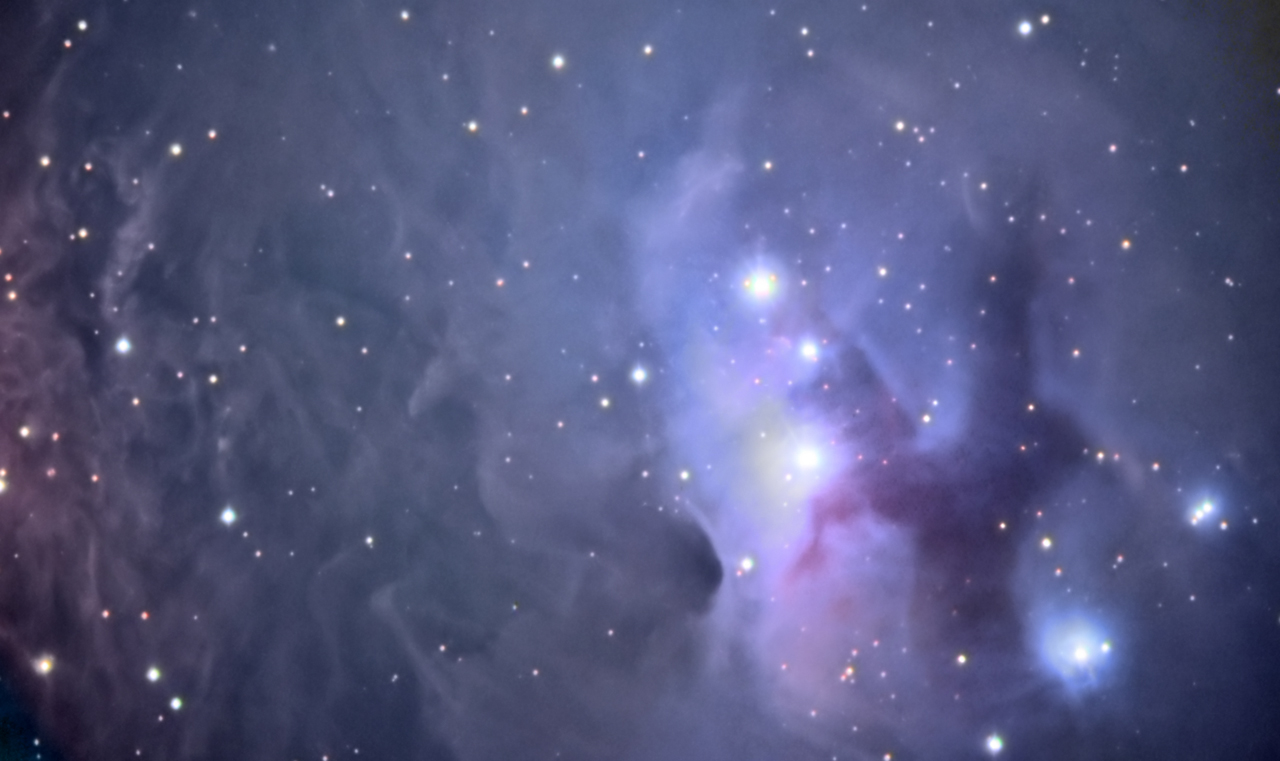 NGC 1977 HaB-RGB
Hot APM News : the new APM SD 100 mm Super Binocular 45 & 90 degree in stock
Hello Friends,

Many of you asked me to improve our APM 100 mm ED Apo Binocular to the level of the 120 mm SD Model.
Well my ears have been open for you and we did it :-)
here the latest news
1, review of a famous customer from austria:
The SD Bino far exceeds my expectations, it is actually an apo double refractor
the synonymous with 137x sharp draws. No astigmatism, no coma, spherically well corrected - both tubes around the 95% Strehl.
And the color correction is fantastic: even de focused no color comes in Jupiter, Vega is white and not yellowish,
You do not see any color fringing anyways, and the scintillation does not cause "splashes of color" either.
Since the two tubes capture different seeing, the image impression is also better than with a Bino approach. I did not think about that before.
Great pleasure in every enlargement, and I congratulate you on this outstanding development!
Could you like to bring it as a quote in advertising, people know me yes.


Thank you very much for this wonderful part, about 40 is in my telescope collection 😀


I will recommend!

 Tommy
there are now on the webside, but still with old/wrong pictures, we must do new once next weeks
APM 100 mm SD APO Binokular 90° FCD100 doublet with set eyepieces UF24 > Retail US $ 2,790.00
https://www.apm-telescopes.de/en/apm-100-mm-90-ed-apo-binocular-125-eyepieces.html
APM 100 mm 90° SD APO Binocular FCD100 doublet - with Case and Set eyepieces UF24 > Retail US $ 2,990.00
https://www.apm-telescopes.de/en/apm-100-mm-fcd100-doublet-45-grad-apo-binokular1.html
APM 100 mm SD APO Binocular 45° FCD100 doublet with set eyepieces UF24 > Retail US $ 2,790.00
https://www.apm-telescopes.de/en/binoculars/giant-binoculars-100mm-aperture-more/apm-100-mm-fcd100-doublet-45-grad-apo-binokular.html
APM 100mm SD APO Binokular 45° FCD100 doublet -  with Case and set eyepieces UF24 > Retail US $ 2,990.00
https://www.apm-telescopes.de/en/apm-100-mm-fcd100-doublet-45-grad-apo-binokular.html
shipping each is US $ 100.00
all available now from stock at APM-Telescopes in Germany

order by e-mail : anfrage@apm-telescopes.de

Telescopes, Astronomy, Binoculars