From the
ATWB Customer Gallery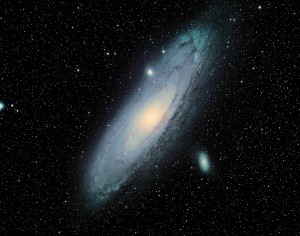 Andromeda Galaxy M31
Kasai WideBino28 Ultrawide Field--SOLD
SOLD

Kasai WideBino28 Ultrawide Field

I bought this WideBino28 brand new from Kasai Trading last year for $170. I have used it only a few times, and I have kept it with all four caps on in its zippered case in a closet. I have never touched nor cleaned the glass, and everything is in virtually new condition.

Although this is technically a binocular, the experience of using it is like observing with the naked eyes from a very, very dark site. It was interesting to use in my backyard and exciting to use at a dark site.

With the WideBino28, you can see the entire "teapot" of Sagittarius along with the Lagoon Nebula and the Trifid Nebula in one field of view, and you can see many more stars than you can see with only your eyes. From my backyard I can usually see three to five stars in Ursa Minor, but with the WideBino28 I can see ten to twelve, all in the same field of view. The difference is more noticeable at a dark site. Last year I camped at Grand Canyon and I was awestruck when I looked through the WideBino28 at Orion—I could see Betelgeuse, Bellatrix, Rigel, and Saiph at the same time, and the whole field of view was packed with stars. I had never seen the night sky quite like that in 33 years of observing.

I have not had enough time to use this WideBino28, and I need to part with a few things to pay for other equipment. Asking $120 including shipping in the CONUS and the PayPal fee.

Note: The best way to see the widest field of view is to position your eyes close to the eye lenses. Therefore, it is essential to see through the WideBino28 with your naked eyes. I wear glasses, but I took them off to use the WideBino.

Telescopes, Astronomy, Binoculars