From the
ATWB Customer Gallery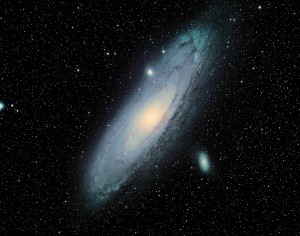 Andromeda Galaxy M31
Swarovski 8X32 EL SV ***SOLD***
For sale is a Swarovski 8X32 EL SV binocular in excellent condition with all original accessories.  This is the Swarovision version just prior to the current Field Pro version.  The main differences between the two versions are the strap system and some of the other accessories.  My understanding is the optics are the same which is to say superb.  

These are bright and razor sharp to the edge of the 8 degree field of view.  Eye relief is comfortable with eyeglasses, and the twist-up eyecups accommodate viewing with or without glasses.  You can read all of the reviews that attest to this binocular as one of the finest birding binoculars in a compact form.

The optics on these are pristine, and the housings are likewise in excellent condition, free of any significant wear.  The focuser is smooth and precise with a light touch.  As is typical of the Swarovski greaseless focusers, there is sometimes a difference in resistance noted when changing direction of the focus.

Included with the binocular itself are the rainguard, objective covers, strap, case, cleaning cloth, snap shot adapter (allows photos with an I-phone through the binocular), the box and all paperwork.  The binocular is registered with Swarovski, and the warranty is transferable to the new owner.

Final reduction to $1225 firm,  shipped in the CONUSA.  PayPal preferred, And I will cover the fees.

Thanks for looking.

Telescopes, Astronomy, Binoculars