From the
ATWB Customer Gallery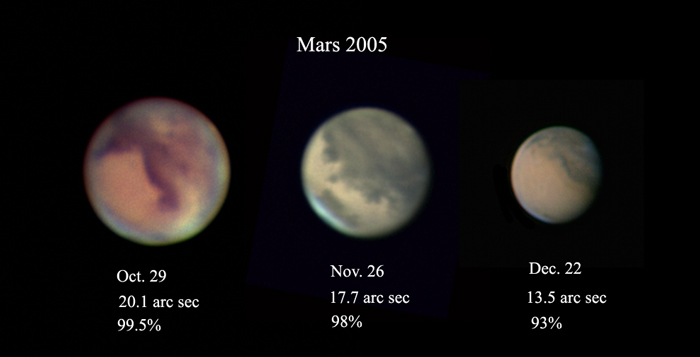 Mars_Oct-Dec_2005
Carl Zeiss binoviewer - 30mm *** LAST ITEMS EVER ***
Unfortunately, like I stopped production of most binoviewers I made, now comes time to stop production of that binoviewer!
Grab your unit before they become collector items!
5 pieces were available!
2 pieces sold!

This is most successful and best selling Carl Zeiss binoviewer ever!

Reason?

- LARGE prisms 
- no vignetting in any 1.25 inch eyepeices across whole FOV
- high quality optics and mechanics
- very affordable price

Its longer time DISCOUNTED (was made in year 1984 +/-).
Thats exact model on which is based Baader Mark V binoviewer, so Mark V is just COPY of that binoviewer!
Collimation is setted on 100%, and if needed to adjust it anytime, can be done very easily by END USER (VERY important feature) by simple shifting eyepeice holder plates!

Optional: I can make my Signature and date of making on binoviewer for free!
Specifications:

- high quality all metal binobody
- easy collimation possible by END USER - collimation instructions included with purchase
- high quality all prisms inside made by German Schott glass
- precisely, ultra fine polished all glass surfaces
- high light transmittion (same MgF2 coatings which was applied in famous Carl Zeiss Monocentric eyepeices latest run)
- prisms diameter 30mm
- 30mm Clear Aperture (Supercharged), vs 28mm Clear Aperture originally on left eyepeice side and telescope side
- 28mm Clear Aperture (Supercharged), vs 26mm Clear Aperture originally on right eyepeice side
- no annoying polarisation effect like common binoviewers have
- T2 bayonet connection on telescope side - compatibile with Baader Glass Path Correctors
- IPD: from 55mm to 75mm
- light path: 12.2cm with installed Baader eyepeice holders
- weight: 780 grams with all included equipment

In setup are included: 

-1x Carl Zeiss 30mm prisms binoviewer 
-2x custom made T2 ALU plates
-2x Baader T2 eyepiece holders with very fine and precise adjustable diopters, and rotation locking screw mechanism - compression ring type, so no set screw marks on eyepieces. They can be very easily changed/replaced with any other T2 eyepiece holders if you want - just unscrew them
-1x Baader Quick Changer - allow binoviwer to rotate and lock it in desirable place
-1x Baader T2 to 1.25 inch telescope adapter - compatibile with Baader Glass Path Correctors
-3x 1.25 inch protective covers for binoviewer front and back sides

I cover shipping anywhere worldwide!

Included lifetime support, and paperworks: Binoviewers Certificate + Collimation instructions - all Signed by me.

I accept PayPal, bank money transfer, Western Union or cash on hands.

Kind regards and all best
CS
Denis, binoviewers expert

Telescopes, Astronomy, Binoculars