From the
ATWB Customer Gallery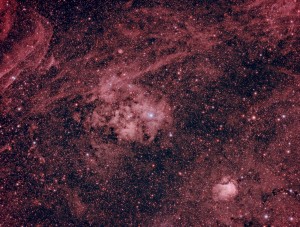 Sh2-115 Nebula
Carl Zeiss binoviewer worldbest unit!
[COLOR="Red"]Item is SOLD FOR 2600 USD!!![/COLOR]

Thats a DREAM binoviewer!
If you want best binoviewer ever produced, thats it! This is custom made HUGE Carl Zeiss binoviewer, with amazing optics and mechanics, in used condition, but like new optically and mechanically! There is no other binoviewer which can compare with it, no without reasons!
Mechanics is extremly smooth and precise, and optics provide extremly sharp and contrast images.
This bino have [COLOR="Blue"]2 air-to-glass surfaces less than any other binoviewer on market[/COLOR], and this results with better light transmittion, less scattered light, more sharpness, and much more contrast.

Specifications:
[COLOR="Blue"]
- best Zeiss avaiable multi-coatings
- prisms extreme polished
- highest quality of glass material which provide crystal clear look through bino with feeling like glass disappear
- 31.5mm Clear Aperture of prism on right eyepiece side, wuth 31.5mm diameter of correction glass
- 30mm Clear Aperture of prism on left eyepiece side, with 30mm diameter of upper prism
- 29mm Clear Aperture of prism on telescope side, with 30mm diameter of beamsplitter
- fully rotatable body on axis (there is no other bino that can to that, except its little brother with 25mm prisms, and this is VERY usable)
- all metal design
- Baader ClickLock eyepiece holders
- fine focusing system and dioptrer compensation on both sides
- INOX made T2 direct connection on the telescope side - compatibile with Baader Quick Changer system
- T2 male connections on each eyepeice side when you remove Baader 1.25 inch eyepeice holders, so you can use this for many other applications simultaneously, for example for photo and visual, etc etc.
- original Zeiss rubber protection around binobody against scratches, shocks and other damages, and it is especially usefull in cold winter time when observing, or when you touch/holds bino with/in your hands
- possible easy collimation if necessary
- IPD (interpupilar distance): from 53mm to 82mm - there is no existed bino in world which have so wide range of IPD, so only this Zeiss have it
- weight of binobody: 860g
- optical path: 122mm [/COLOR]

Last item of same bino, but with dfferent adaptation I sold for 2700 USD. Just check my Astromart ad No.: 863720.

I prefeer payment via bank transfer here, so if you using PayPal, you cover 4% international fees.
I will cover shipping worldwide. You will receive item for only 5-15 working days to your home adress, wherever you live, via airmail priority fully tracked shipping, all at your instructions.

Buying item you have FREE lifetime support on this bino, like cleaning and collimating.
I am sure you will be AMAZED with this bino, and there will be many many WOWWWS!!!
Do not miss this extremly rare oportunity to have such INCREDIBLE bino!

Telescopes, Astronomy, Binoculars