From the
ATWB Customer Gallery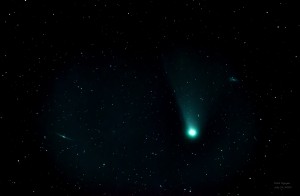 Comet Neowise with the Needle Galaxy: July 31, 2020
Denk Standard with Powerswitch x
Selling a Denkmeier standard with powerswitch x.

Clean glass and body.  Collimation looks fine.  

Comes with like new 2 - 25mm Smart Astronomy Sterling plossls

1- Denkmeier  Type S OCA .

1 new Apache protective case.

  I used this for a Ha setup that used a 1.25" Ha diagonal with the type s OCA and came to focus on both Power switch settings.  This will only work with some refractors that have extra focus travel towards objective and a short light path 1.25" diagonal. 

For use on reflectors or refractors with 2"  diagonals a OCA for those telescope designs is needed.

Continental US sale only.  No pay pal fee.

Telescopes, Astronomy, Binoculars