From the
ATWB Customer Gallery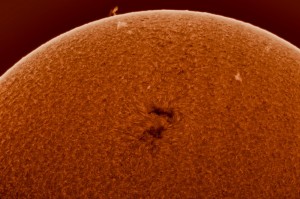 AR 2773 from Lake Ahern Observatory
Canon EF 100-400mm f/4.5-5.6L IS USM
L-series super telephoto zoom lens equipped with an Image Stabilizer. The fluorite and Super UD-glass elements largely eliminate secondary spectrum. The floating system also ensures high picture quality at all focal lengths. The Image Stabilizer has two modes and it is compatible with Extenders 1.4x II and 2x II.
The Canon EF 100-400mm f/4.5-5.6 L IS USM lens is perfect for reaching much longer focal lengths without changing lenses.  More compact than fast aperture monster telephoto lenses, the 100-400mm zooms through an impressive range of magnifications without taking up more space in you bag than a 70-200mm f/2.8. The aperture changes from 4.5 to 5.6 at the widest depending on how far you zoom. This is more than adequate for daytime shooting while still getting great bokeh.
This lens features Image Stabilization in two modes so you don't worry as much about having shaky pictures. It also features Canon's USM (Ultra Sonic Motor) for speedy focus that's also quiet which can help with wildlife photography.

Lens is like new and comes with lens case. 
Buyer pays shipping and insurance. 

Telescopes, Astronomy, Binoculars