From the
ATWB Customer Gallery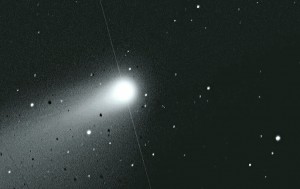 Comet Neowise with satellite pass.
Canon EF 85 f/1.2 L II USM
Very lightly used Canon 85mm f/1.2 lens. I originally purchased this lens for portrait use and possible widefield astrophotography. Unfortunately my interests in photographing people quickly waned, and when observing/imaging, I tend to defer to the narrower view of the telescope in lieu of widefield photography.
This lens has spent all of its time in my camera bag, and and is in excellent condition. I no longer have the original boxes, or a lens case. I do have the sun shade. The optics are like new...clear and no signs of fungus or coating damage. I will cover shipping to the lower 48. Thanks for looking!

Telescopes, Astronomy, Binoculars