From the
ATWB Customer Gallery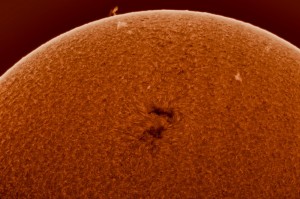 AR 2773 from Lake Ahern Observatory
Classic Canon Fisheye EF 15mm f/2.8 SUPER SHARP - SALE PENDING
This is the premium super sharp classic Canon Fisheye 15mm 2.8 lens, rare, no longer available at retail. Autofocus. 
This is a proven performer lens, in outstanding condition, for sale by a proven performer landscape astrophotographer. This lens is also an outstanding underwater lens enabling amazing super sharp close ups. Why settle for just one once in a lifetime picture when you can capture multiple life moments with proven equipment. Seller has had multiple images in TIME, LIFE, National Geographic.
Famed lens reviewer Ken Rockwell has this to say about this lens, "The Canon 15mm f/2.8 full-frame EF Fisheye is the best fisheye I've ever used. It is super-sharp, never fuzzy in the corners like Nikon fisheyes. The Canon 15mm fisheye fills the full frame seeing 180º from corner to corner."

Telescopes, Astronomy, Binoculars