From the
ATWB Customer Gallery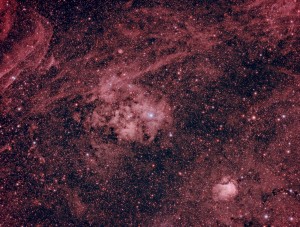 Sh2-115 Nebula
Nikon Z6 Nikkor Lens Complete Collection Sale from Fisheye to Super-Tele
After decades as a loyal Nikon user, I'm switching to Canon, and letting go of an extensive collection.  I love the Z6 mirrorless I've been using for a year, but Nikon isn't offering the lenses I'm really looking for.  I had tested the EOS-RP months ago and rejected it, but decided to adjust to the non-Nikon aspects on a second test in order to access the current and future Canon arsenal of lenses.
I'm a very active Questar telescope restorer and collector (visit my Questar Zone YouTube channel) and have extensive buying and selling activity on CN and AM. 
Pricing is set below the lowest Ebay buy-it-now price for excellent condition US models from US sellers (not the abused pro turn-ins sold by the big shops).  Use "Show only – Sold" to view buy-it-now items for real pricing.  You avoid bidding on a dozen auctions to get a fair deal, you save sales tax, and I avoid Ebay commission.  The Paypal 3% is up to your option.  Shipping is $20 flat rate per order. 
Photo is incomplete and does not show several items or any boxes or accessories.  Prices are before I photograph anything more but I'm happy to send photos in response to real offers contingent on verifying excellent condition.  Unsold items will be photographed for better marketing.
All are in optical, mechanical, and cosmetic pristine condition except as noted.  Some have been used very rarely since new.  Others have been used more often but gently and not in harsh environments.  Boxes, papers, caps, and hoods are included except as noted.  Everything is USA model if still in warranty period.  All but the 300 and 400 were purchased new by me.
$1400   Nikon Z6 body with ~10,000 shots, spare battery.  Packed in original materials like new.  Add FTZ for $100
$1000   Z 14-30mm f4 S ($1297 new)
$550      Z 24-70mm f4 S ($997 new)
$200      50mm f/1.4 AF-S ($377 new)
$600      70-200mm f/2.8 VR (I not II) Includes original zipper case.
$2800   300mm f/2.8 VR (I not II) Includes original zipper case.
$2500   400mm f/2.8 AF-I, including original trunk case and shade.  Some cosmetic wear.  Z6 and Z7 make this the full VR cheapskate secret with superlative optics and fast AF.
$100      2x AF-1 TC
$150     FTZ adapter
$600      35mm Sony Zeiss f2.8 "pancake lens" with Techart adapter for full function on Z6,7.
$80        SB-400 flash
Offers are welcome but may not receive a response if not based on Ebay market pricing (include a link).

Telescopes, Astronomy, Binoculars