From the
ATWB Customer Gallery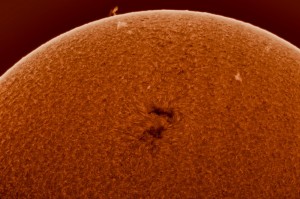 AR 2773 from Lake Ahern Observatory
Zeiss 135mm F2 APO Sonnar Canon Mount
Hello, 

I am selling my Zeiss 135mm f2 APO Sonnar lens for Canon mount. I predominantly used this lens for widefield astro shots, which it is absolutely amazing for. I have shot this lens wide open with great results: amazingly sharp stars across the frame, although it does exhibit some vignetting. It clears up when stopped down to f2.5-f2.8 with even sharper performance. I think this lens handily out performs the Rokinon/Samyang f2 (granted it is much pricier...)

This lens is in great shape, works with no issues (I have been using it adapted to Sony). It will come with a Canon lens cap and a "lens sock."

The lens is in excellent condition, no scratches or scrapes (I take immaculate care of my gear). 

Please let me know if you have any questions or if you would like to see some example unedited images. I am also selling a HA modded Sony with the Sigma mc-11 and would be happy to make a bundle and find a fair price if interested. 

Cheers!

Telescopes, Astronomy, Binoculars