From the
ATWB Customer Gallery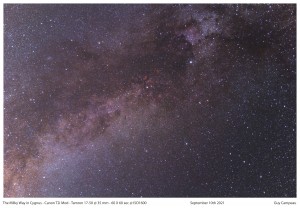 The M ilky Way in Cygnus
Large ScopeGuard Case
For Sale is a beautiful large ScopeGuard case for Astro gear that has never been used.  The case has about 1- 1-1/4" thick foam padding inside.  Outside dimensions are 42" x 16" x 16"; internal dimensions (excluding the padding, i.e, the volume for actual storage) are 36-3/8" x 12-1/2" x 13."  The case has a TSA lock with a key, as well as two wheels and a retractable handle.  There is also a fold-down handle on the top of the case and one on each of the two small sides.  ScopeGuard is no longer in business, and this case is no longer available at retail.
Despite not being used, the case has sat in a garage for about eight years, and there was some observable corrosion on one of the side handle chrome brackets that I removed as best I could with a Dremel tool (see photo).  Outside of that, the case is very clean and in Excellent condition.
My original idea for this case was to transport my Eagle pier and other non-optical gear and accessories, so I believe it was sized with that in mind.
Please note that the price offered INCLUDES shipping, which I estimate about $80.
I will pay for PayPal fees and Shipping within CONUS.  Shipping is via UPS Ground.

Telescopes, Astronomy, Binoculars