From the
ATWB Customer Gallery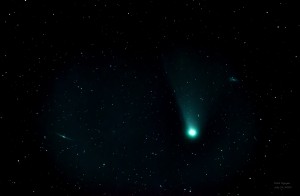 Comet Neowise with the Needle Galaxy: July 31, 2020
Orion Padded Soft Case
For sale is a used in excellent condition Orion padded soft case with the padded center divider. This came with my used scope but I have never used it and it is just taking up space. This can hold, at the same time, the celestron cge4 and celestron omni 150 reflector. 
Velcro and zippers in great shape. External dimension: 9.5" W x 49.75" L x 12.25" H

I will cover shipping via UPS ground to continental U.S. Paypal only.

Telescopes, Astronomy, Binoculars