From the
ATWB Customer Gallery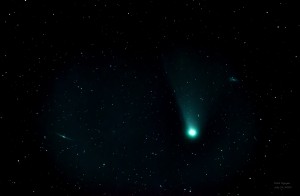 Comet Neowise with the Needle Galaxy: July 31, 2020
"Pelican" Model 1550 Instrument case
FOR SALE: "Pelican" Model 1550 Instrument case.
Like New Yellow Pelican 1550 case with yellow handle & latches.
Inside dimensions of 1550 case – 17.5" x 13.25" x 7.72" (approximate, inside foam liner)
Watertight, crushproof, and dustproof.
Approximate empty weight - 12 lbs. Comes with padded compartments.
The only wear I see is two very small scratches on the bottom – you have to really look for them.
This case is perfect for storing and transporting your expensive optics and accessories. The padded compartments are fabric lined and the lid has egg-crate foam.
$90.00 plus shipping within the continental US. Cash, Cashier's check or Paypal please.

Telescopes, Astronomy, Binoculars