From the
ATWB Customer Gallery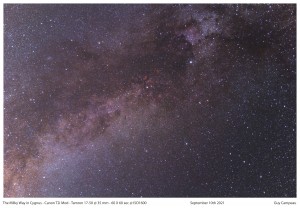 The M ilky Way in Cygnus
Tenba Roadie Rolling Case - Reduced
Tenba Roadie rolling equipment case in excellent condition.  A few exterior scuffs, but no wear or parts missing for the interior,

External dimensions approx. 18 x 13 x 11 inches plus another inch where the feet are. Lower compartment is approx 16 1/2 x 12 x 6 inches, has a removable section with adjustable padded dividers and measures approx. 15 1/2 x 10 1/2 x 6. Two upper sections, one suitable for a large laptop (thick 17 inch fit easily with space for larger) and a smaller one for misc items such as cables, cards, small hard drives, etc. The case has an extending handle and wheels for rolling. Will hold photo gear, imaging equipment, eyepieces - it can be configured many ways.

Price is $100 + shipping.

Telescopes, Astronomy, Binoculars