From the
ATWB Customer Gallery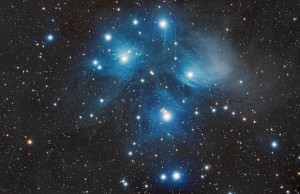 M45 Pleiades
All-Sky Meteor Cam Waterproof Enclosure System! Just in Time For the upcoming Meteor Showers! Powered by A Raspberry Pi 4B Micro Computer. Just add ZWO Cam!
Just in time for the Fall/Winter Meteor Showers!
Up for sale is my 
ALL SKY/METEOR IP67 Waterproof Enclosure with Raspberry PI 4 B Computer 4Gb RAM that I made this past summer.
 It is controlled by a Lynx platform called 
Astroberry
. JUST ADD YOUR (Non-Cooled/Non-Mini) ZWO Planetary Cam 120/224/385/290/178 ect...
Just Pop in your ZWO Planetary Cam with the All-Sky Lens that came with it and your set!
Then hook up a monitor, via HDMI cable (I bought a Micro HDMI adapter), keyboard, and mouse to get started. You then can remotely control it from another computer once you set it up and link it to your WiFi network. It has 4 USB Ports. 2 (USB3.0)+2(USB2.0). It also has 2 Micro HDMI ports, WIFI & Bluetooth.
To power, it, just plug in the 25ft outdoor weatherproof cord.
FireCapture and other Useful Astronomy Software are also Installed.
The system is LYNX based and you may need to become a little familiar with it at first, but it is easy with many tutorials around. And there are many Open Source Astro programs for the Raspberry PI that controls it to do other things. I just kept it basic to get you started. You can also use it to control your DSO RIG. 
My Examples with a 290mm and 385mc in it:
Perseids 2020
https://youtu.be/gAsdLHouWCw
Random Night:
https://youtu.be/9A63lbOTtf4
High Airflow Waterproof IP67 12v Fan $16
Fan Power Supply $10
SanDisk 128GB Extreme MicroSDXC $26
Outdoor Extension Cord 25 Feet, 16/3 gauge) $12
15 Amp Replacement Cord Outlet, Commercial Grade (Used to keep it waterproof) $10
Junction Box with Mounting Plate, IP67 Waterproof(11"x7.5"x5.5" ) $34
Acrylic Flange Plastic Hemisphere Indoor/Outdoor CCTV Dome $13
Raspberry Pi 4 Basic Starter Kit with Official Case (Red/White) (4GB) $87
Miscellaneous hardware $25
I need funds for my next project and I spent over $200 in parts for this and put many hours and willing to sell it for
$199 + Shipping. I will cover PP feels (Message me your zip so I can give you a quote)
CONUS/Lower 48 states Only/Paypal Only

Telescopes, Astronomy, Binoculars