From the
ATWB Customer Gallery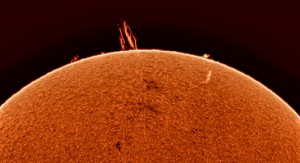 Large prominence 10/22/2020
Atik Infinity Color CCD Camera - PRICE REDUCED
I am selling my nearly brand new Atik Infinity color CCD/EAA camera.  Less than two months old, however in that short time it has been a joy to use with the Atik Infinity stacking/live imaging software and is a very sensitive camera. 

I am only selling as I upgraded to a cooled CCD camera to allow longer exposures.  Wonderful little camera, with great sensitivity. 

Brand new these are 1000$+ so a good deal for such a lightly used camera.

It includes the usb cable and 12v power adapter.  If you want to run off your house AC, you will need to get an adapter separately.   The Infinity software for live view/stacking is free on Atik's website.

Telescopes, Astronomy, Binoculars