From the
ATWB Customer Gallery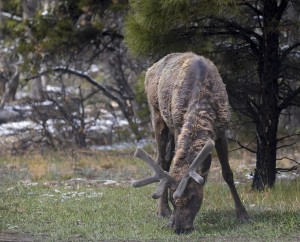 Young Bull Elk
Canon T3i Gary Honis Modified plus lenses & accessories
I am selling my Canon T3i astro-camera. The IR filter has been removed by Gary Honis. The camera includes a 16 GB full size SD card, plus two Canon EF zoom lenses (18-55mm and 55-250mm), charger, two extra high-capacity batteries, a camera bag, an a 2" telescope eyepiece adapter.

This has been my go-to astro camera for the past 10 years, and I've had a lot of fun with it.  I'm seilling because it's time to upgrade to a full-frame camera (this model has an APS-C sensor).  Will ship to buyers only in the USA.  If you are in the San Francisco Bay Area, in-person pickup is also possible.

There are two small scrapes in the camera body paint (pictured) which do not affect operation.  Everything works perfectly, mechanically and electronically.  Some processed astro images that I've taken with this camera are also attached!

Telescopes, Astronomy, Binoculars