From the
ATWB Customer Gallery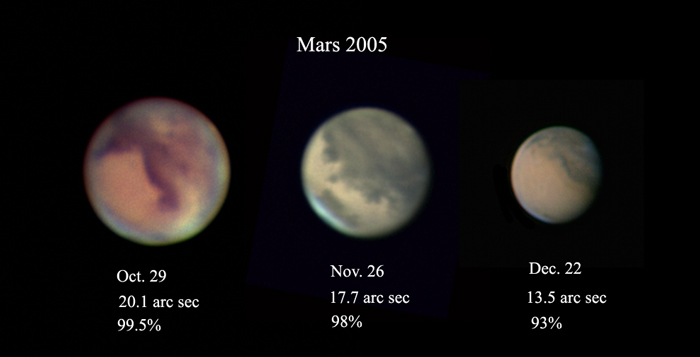 Mars_Oct-Dec_2005
DIY Cooled Mono Canon 7D for Parts or Project
Over the past several months, I've been messing with converting a DSLR over to monochrome. This particular camera is a Canon 7D that's had the UV and IR cut filters removed making it full-spectrum, as well as scraping the sensor to remove the Bayer matrix, effectively making it monochrome. I recently added a cold finger cooling modification to it. The mod uses a large heatsink and fan to cool a 50W TEC unit (Peltier).
Originally, dark frames of 2 minutes would consistently raise the EXIF temperature to 30°C+ while indoors and ambient temp around 72°F. I was able to see temperature changes between 12-15°C just through the EXIF data with this cold finger mod, and condensation forms easily on the back of the copper plate behind the TEC. I've not tested it through a telescope after adding the TEC, but test dark frames did seem to indicate a noticeable drop in thermal noise.
Unfortunately, I must have accidentally touched or scratched something when inserting the cold finger, because I have black vertical lines of pixels at regular intervals. The sensor still works, autofocus actually works fairly well, and the camera still takes photos that can be converted to monochrome through DCRAW. But, I need to move on to other projects. Perhaps you could pick up where I left off!
So... a working Canon 7D with cold finger TEC mod and a marginally-functional sensor. Could be a fun project, or used for parts. The CPU cooler could even be useful for your new PC build! It's a "be quiet!" Shadow Rock LP, a really solid cooler for AMD or Intel systems. (I'll include the mounting hardware, in case you want it.)
Other included items:
1 Canon OEM LP-E6 battery (but no charger)
Leftover TEC units (1x 50W and 5x 30W TECs)
1 PWM temp control unit with temperature probe
1 10ft (I think) right-angle Mini USB cable
Access to my copper cold finger 3D model and drawings made in Autodesk Fusion 360
And if you want them, I have extra sensor frames.
I know I won't get nearly all I've put into this back, but I'm hoping for around $200, including shipping and PayPal fees. If you're interested, hit me up and we'll talk.
I'm also open to equipment trades. I could use a 2" TS Optics filter drawer system, or a Baader Universal Filter Changer (UFC) setup (preferably with M48 adapters). I also might trade for one or two nicer eyepieces.
Example images available on request.

Telescopes, Astronomy, Binoculars