From the
ATWB Customer Gallery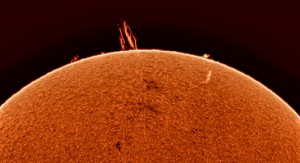 Large prominence 10/22/2020
QSI583 wsg-5/ws-5 8.3Mpixel mono CCD
QSI 583 wsg-5:  5 position integrated filter wheel that accepts 1.25" mounted or 31mm unmounted filters and integrated OAG with t-thread mount.   All original accessories:  2" nosepiece, 12VDC power supply, USB2 cable, ST-4 guiding cable, Allen wrench set, Pelican carrying case.

Extras included:  ws-5 cover plate reduces backfocus to 35mm.  2.156" wsg-5 faceplate, 2.156" to 2" nosepiece, 31mm filter install kit (no filters are included in this sale), 2nd OAG t-thread mount.

I am the original owner of these items.  Camera functions perfectly.  I am able to easily achieve -10C sensor cooling on 80F evenings.  

Price $1200, I will absorb PayPal fees and UPS ground shipping to CONUS.

Telescopes, Astronomy, Binoculars