From the
ATWB Customer Gallery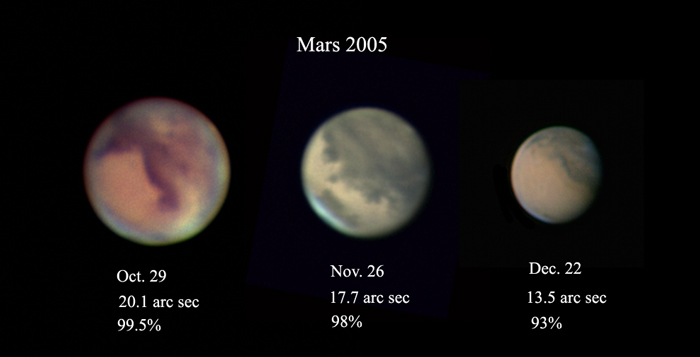 Mars_Oct-Dec_2005
Revolution Imager R2
Revolution R2 imager for sale. This is a great economical camera system to see if you are interested in Electronically Assisted Astronomy. This kit contains everything you need to get you started. I discovered I was interested and bought an Atik Infinity. This is why I'm selling the Revolution 2. I don't need two cameras.
Portable 7" LCD monitor.
12v Li-Ion Battery with a charger to run both the camera and LCD screen.
0.5x Focal Reducer to dramatically widen the field of view.
UV/IR filter.
Hand-held remote control to control the camera.
Shock-proof carry case.
All the required cables.
USB Video Capture Adapter
Also included is the Evolution Revolution kit for Celestron Evolution Telescopes. It is advertised as for the Evolution series telescope, however, it should work on most Celestron SCTs. It contains a piggyback mount, ball-head mount and USB power adapter.
I am asking $175.00 plus ½ shipping cost. I will split shipping within CONUS with you.

Telescopes, Astronomy, Binoculars