From the
ATWB Customer Gallery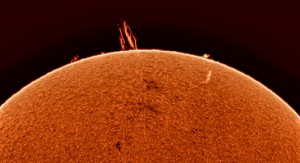 Large prominence 10/22/2020
SBIG ST-8300M CCD camera with FW-5-position Filter Wheel
If ad still shows "For Sale" it is available!

For sale as-is is one ST-8300M camera with FW-5 filter wheel in excellent working condition. This was new in 2010 and only had 1 owner. I tested it and it easily cools to -10C from room temperature using around 85% power. Cables and connectors/ports are sound and original documentation and Pelican case is there. Actual bias or dark .fits files available on request. Mounting plate is standard T-thread (42mm). Note: No filters are included.

Asking $1,000 USD which includes packing, shipping CONUS, and Paypal fees.
Includes:
-SBIG ST-8300M Camera
-SBIG FW-5 Filter wheel
-Original Pelican Case
-Various documentation and original CD-ROM software
-AC/DC Power cord
-USB cable
-Packing, shipping, Paypal fees

Happy to answer any questions. Thanks for looking!

Telescopes, Astronomy, Binoculars