From the
ATWB Customer Gallery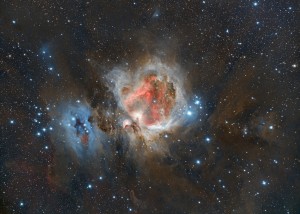 Orion and running man
ZWO ASI128MC-PRO Cooled - Full Frame 6032 x 4032 pixels
I bought this camera 2 years ago and only used it for a couple of months.  It did some great work, but I changed to a monochome camera on the NP127is that I used this camera on.  To see an example image I posted on Astrobin just search for Jerry Macon, then  find this image:  NGC7000 North America Nebula-NP127is.
This model from ZWO is now discontinued, but when available cost $3999.
This sensor has amazing capabilities:  full frame, uses the same sensor as the Nikon D600 uses, one of the best cameras Nikon ever shipped.
Your cost delivered:  $2900.
The
ASI128MC
Pro camera integrates the Sony
IMX128
full-frame sensor (36 mm x 24 mm). It is ZWO's full-frame cooled camera, has
6032 x 4032
pixels, and supports BIN2, BIN3, BIN4 mode. The pixel size is 5.97 μm x 5.97 μm.  This camera provides
14bit
ADC and its full well is
76000e
.
Unique Tilt Adapter
ASI128 Pro includes unique tilt adapter. Say goodbye to tilt problems forever !


USB 3.0 Port & USB2.0 HUB
USB 3.0 Port: can provide 5Gb bandwidth to let ASI128 Pro run at 7 fps (14bit, normal mode) or 10 fps (10bit, high speed mode)  at full resolution(24Mega).
ASI128 Pro camera has one full frame sensor, so the power consumption (650mA@5V) is much higher than other cameras. But USB3.0 can provide 1000mA current, so ASI128 Pro can run standalone under USB3.0 host, it doesn't need external power supply.
USB 2.0 HUB: can connect with various accessories, such as filter wheel, guide camera and electronic focuser, so you can manage your cable better with USB2.0 hub. There are 2 short 0.5m USB2.0 cable come with ASI128 Pro. the power of hub source from external power supply if you connect it.


Cooling and Anti-Dew Heater
ASI128 Pro has a two-stage TEC cooling system that allows deep cooling (30°C-35°C below ambient). You will need an external power supply to power the cooler. An AC-DC power adapter is not included in this package, however you can order one from here.
You need to connect the external 12v power supply if you connect the camera to USB 2.0 host which can only provide 500ma current.
Recommended cooler power supply: 12V @ 3-5A (or more) DC adapter (2.1×5.5mm, center pole positive). Also suitable: DC battery with 9-15V.
The anti-dew heater can heat the protect window to avoid any dew problem happens, the heat power is around 3.6W and can be turn off  in software to save power.

Telescopes, Astronomy, Binoculars