From the
ATWB Customer Gallery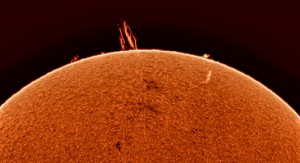 Large prominence 10/22/2020
ZWO ASI6200MC-Pro - SOLD
Up for sale is my ZWO ASI6200MC-Pro (Color). I had gotten this and the ASI2400MC-Pro. One of the cameras has to go... It is in LNIB condition. It comes with all the standard accessories that ZWO lists on their website. I am asking $3,500 firm. PayPal Friends & Family, or the buyer pays the PayPal transaction fee. 

Price includes shipping. CONUS only.
This is your chance to get it $500 off of the price new!

Telescopes, Astronomy, Binoculars