From the
ATWB Customer Gallery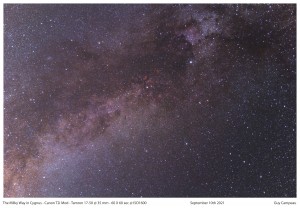 The M ilky Way in Cygnus
ZWO OAG
Selling due to I am moving up to the larger M68 OAG for my new camera. I will carge $7 shipping in CONUS. Add 3% for paypal unless using friends and family option.
Below are the specs per the ZWO website
Product Description
ZWO Off-Axis Guider for Astrophotography
1.Lightweight, 16.5mm thickness
2.large prism:8*8mm
3.Connect the main imaging camera and the guide camera. No guide scope required!
4.Flexible adaption to your camera and telescope  , such as  M42 and M48.

Telescopes, Astronomy, Binoculars