From the
ATWB Customer Gallery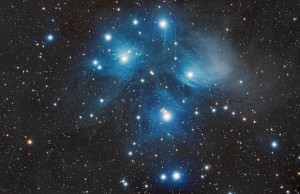 M45 Pleiades
Pending to James - Explore Scientific 3" Carbon-fiber Dielectric Diagonal
Hello all,
I've got an Explore Scientific 3" carbon-fiber dielectric diagonal that needs a new home. I picked up the 3" diagonal recently, along with it's partner – the ES 3" 30mm 100-degree eyepiece. However, the pair was intended for use on an APM 152 that's mounted alongside a Tak TSA-120, and I just bought a C11 Edge which needs one of the two spots on the mount. I've decided to keep the Tak, and so the APM 152 has to go… thus, I don't have a place to use the 3" ep or diagonal (the Tak has a 2.5" focuser).
I can't tell you how the diagonal performs, because I never used it. The original owner, from whom I bought the 2 items, said that he was very happy with the performance, but he said he needed to sell to free up $$$ for other astro items.
The exterior of the diagonal has a few blemishes. The surface of the carbon fiber panels shows a few scuffs in spots, which I've tried to show in photos. There aren't any horrible scars, just a few small-to-very small scuffs. There are a couple of very minor dings in the metal frame. The mirror had some dust on it, so I cleaned it. The cleaning went well, but revealed 3 scratches in the surface of the mirror that I could see. 2 of the 3 scratches, each about 1/4" long, I was able to catch in photos that are included in the ad. The 3rd was so slight that I couldn't capture it in an image. I've got a couple of prism diagonals, and a couple of the 99% dielectric types, and it seems to me that the mirror diagonals generally seem to have some slight marks and/or scratches on them. Given the scratches that seem to be prevalent on mirrored diagonals, I've never noticed anything while viewing that I could relate to the minor scratches, and I believe the same would hold true with this diagonal.
I've priced the diagonal a bit lower, at around 60% of retail ($489), to account for the minor flaws.
The price of $295 will include UPS ground shipping throughout CONUS, and covers the Paypal Goods/Services fees. If you'd like to purchase both the diagonal and the ep (a total of $945), I'll cut $25 off and make it a total of $920, CONUS shipping and 3% Paypal fees included. International buyers are welcome, but will need to cover the additional shipping costs and international and currency exchange fees.
Thanks for checking the ad, and Happy Holidays!
Tim McLarney

Telescopes, Astronomy, Binoculars