From the
ATWB Customer Gallery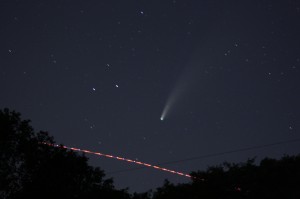 NEOWISE With Airplane 7/17/20
Tele Vue 2" Diagonal - Everbrite? (Reduced Price)
Tele Vue 2" unmarked diagonal. This came with a late model TV-102 (black draw tube w/two brake screws), and I believe it's an Everbrite, but the sticker has fallen off and so I can't say for certain that it's an Everbrite. It's also from that middle ground period in between the current rough matte and the older glossy anodized finish (the TV-102 had matte black anodizing). It features a brass compression ring, and is in excellent condition but for a minor scratch on the bottom (shown in pics). There are no set screw marks on nosepiece (the scope had a brass compression ring, too). The mirror is clean. No caps. Will ship in plastic bag, well packed.
Currently, the retail price for a TV 2" Everbrite diagonal is $320!


Reduced $135 PayPal'd and shipped to US address. I pay shipping costs and cover PayPal fees (but appreciate F&F option based on feedback).

Telescopes, Astronomy, Binoculars