From the
ATWB Customer Gallery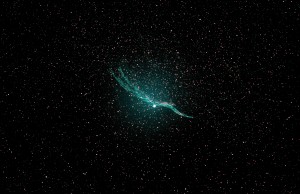 Happy Halloween: Witch's Broom Nebula
Vixen Flip Mirror
Relatively new,. only used  few times before moving on to a different imaging chain.
Attached to 50.8mm visual back
Accepts two 1.25" eyepieces
Threaded to fit T-Ring underneath each eyepiece holder
Optical Path Length : 119mm
Weight: 10.4oz (295g)

 
With an enhanced aluminum coating giving 96% reflectivity, Vixen's  diagonal flip mirror has much to offer.  Attach this diagonal to your telescope via a 2" threaded barrel that accepts 49mm filters. This diagonal allows use of the flip mirror to change between its standard 90 degree 1.25" eyepiece or the multi purpose eyepiece/photography port straight through, yielding 100% transmission.  This port not only fits many photo adapters but also un-threads to a standard 42mm T-Ring thread.  Use with Item 37292, a  2" adapter to change the port on your flip mirror.

Telescopes, Astronomy, Binoculars