From the
ATWB Customer Gallery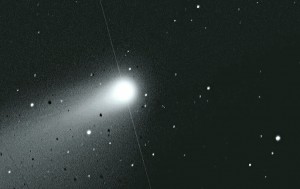 Comet Neowise with satellite pass.
Canon astrophotography setup
I am selling my trusted Canon EOS Rebel T3 (EOS 1100D). Mostly used for family pictures (some 15,000 of them, before I gave up and started using the smartphone for those). I used it under the stars for a total of 7 nights and it was a joy to use with APT.

Here is the list of the items included in this lot:

1. Camera body, body cap, battery pack LP-E10, battery charger LC-E10, wide strap EW-200D, USB interface cable, printed manual in Italian (this I bought on eBay, the original one was in English) … long story short, the only missing things are the printed English manual (I can give you the PDF) and the CDs (I can't locate these items, they are somewhere in my garage but not only you won't need these things, the last revision is available on Canon's website);

2. Canon EF-S 18-135 IS Macro with caps;

3. 67mm Bower Multi Coated UV filter (installed on the day I bought the camera and the lens and never removed);

4. 67mm B+W Circular Polarizer filter (never used);

5. 64GB SDXC 200x Lexar Premium Series memory card;

6. Mountainsmith QuickFire holster camera case;

7. Canon ACK-E10 AC adapter kit (used once);

8. 2" UltraWide True-2 Prime Focus Adapter with Canon EOS bayonet.

Everything works perfectly.

$400, PayPal and CONUS shipping fees INCLUDED.

Telescopes, Astronomy, Binoculars