From the
ATWB Customer Gallery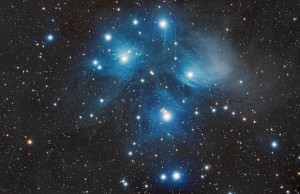 M45 Pleiades
Pending to James - 3-Inch Explore Scientific 30mm 100-degree Eyepiece Optically perfect
Hello all,

Up for sale is a 30mm, 100-degree, 3" eyepiece from Explore Scientific. It's got 19mm of eye relief, it's waterproof, and it's filled with argon so that when your wife comes out with her flamethrower to roast you for your latest astro purchase – well, somehow being filled with Argon just sounds good! If you've got a focuser with a 3" output, you're good to go. If you've got more than 3", you've got a bit of work to do to slim down to 3", and then you're good to go. If you need/want a 3" diagonal, I've got the Explore Scientific version listed separately; if you take both, you'll get a bit of a discount.
I am the 2nd owner, but haven't used it yet. I've got a Tak TSA-120 triplet with a 2.5" focuser, and a 152mm APM doublet with a 3.5" focuser. I was looking into an adapter to get the 3.5" focuser down to a 3" fitting, but then I purchased an 11" Edge a few days ago and now one of the two refractors has to be booted off the side-by-side mount to make way for the C11. I've decided to keep the Tak, and let the APM go, so that's why I've decided to sell the 3" ep…
The original owner got some use out of it, as evidenced by several minor signs of use. The glass looks pristine, to me; however, the body has a small nick and a bit of scuffing, the barrel has several very slight scrapes/scratches, and the box took a hit from something but is still functional. I've tried to get images that show all of those things included in the ad. 
It's time to mention the size of this ep. It's big. Really big! 5 lbs 3 oz. Sounds like a baby born a bit early. I placed a photo in the lineup that shows the ES 3" 30/100 alongside a Tele Vue Bino Vue , a 31mm Nagler, a couple of T6 9mm Naglers, shot glasses, and a 1.75L bottle of Malibu. I believe that the ep is heavier than the Malibu, even if the bottle is full. None of the non-ES items pictured in the Malibu image are included in the sale. Sorry… 
Since I haven't been able to use it, I can't tell you about the views; but, if you've been thinking about the possibility of buying the 3"-30mm and were put off by the $999 list price, here's a chance to pay less than 2/3 of retail by spending $650 for this one. 
That price, via Paypal Goods/Services, will cover Paypal's fees as well as UPS ground shipping within CONUS. If you'd like to pick up both the ep and the 3" ES diagonal I've listed separately ($489 retail – my price $295), I'll give you $25 off the total of $945, for a total price of $920. International buyers are welcome, but will need to cover the additional shipping costs via whatever service you choose, as well as covering the additional Paypal fees for international transactions. 
Thank you for reading along, and Happy Holidays!
Tim McLarney

Telescopes, Astronomy, Binoculars