From the
ATWB Customer Gallery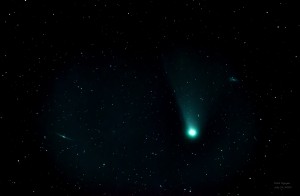 Comet Neowise with the Needle Galaxy: July 31, 2020
Beecher Mirage 7x30 EX Binocular Glasses . **PRICE LOWERED**
$595 New   (list $695)

   $150 SHIPPED .....Or best offer 

Bought these used a few years ago for hands free, wide field star gazing.
They work great and it's a pretty neat view. It reminds me of looking through the 28mm RKE eyepiece, that sort of "floating" image  I guess the product DOES say ' disappears before your eyes'  
Tried getting a picture THROUGH them to compare . Little blurry because I was trying to do it all one handed
I think they are also used for people with poor eyesight. Synopsis of website....
  '..Excellent brightness'
  'Twice the field of view of conventional telescopic systems'
  'Extended eyepiece and rimless viewing...'
  'Perfect for bird watching and viewing special events...Church...sporting events...concerts'

They don't mention Astronomy but I liked just putting them and sitting back and not having to hold a pair of binoculars..just relax and look around..



I have the case they came.


I will ship FREE in CONUS w no fees.
Thanks for looking,
Rick

Telescopes, Astronomy, Binoculars