From the
ATWB Customer Gallery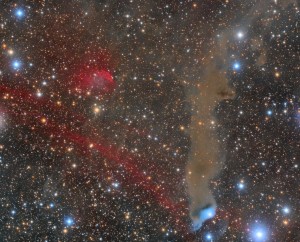 VDB 152 HaLRGB
Russell Optics - 50mm Super Plossl XL - 2"
Near-mint condition, excellent quality eyepiece at a super low price.
$60 shipped in CONUS.

Thanks for looking!



This is from Gary Russell:

The 2 inch 50mm super-plossl was designed and built specifically for low-power views in an 8 inch SCT.  I sell the one with new XL lenses for $85 plus $7 S&H.  The 50mm = 40.6x with 1.23 degree true FOV (50 degree AFOV).  An excellent wide angle eyepiece with much better eye relief (closer) than the Meade 56mm. Great views and beautiful clean and bright glass. These are probably the most popular long focal length/low-power eyepiece ever made. The 50mm 2" Super-Plossl eyepiece is a superb low-power eyepiece with fantastic edge to edge sharpness and contrast!

Here is an AWESOME Super-Plossl, 5-element design, eyepiece that will absolutely amaze you with ULTRA-sharpness, superb contrast, and performance at a fraction of what you would expect to pay.
Low-power astro-scanning is one of the most impressive and enjoyable things you can do, and viewing from 35x to 55x with a wide-field Plossl it is like looking at millions of diamonds lying on a bed of black velvet cloth!

Russell Optics makes this 2" 50mm Wide-Field Plossl with SUPERIOR multi-coated lenses, a 30mm eye relief, and it is threaded for standard 2" filters.

PLEASE NOTE: This eyepiece works in any scope that accepts 2" eyepieces, but it is suggested that you do not go below 35x in any scope that has a central obstruction (ie.: a Newtonian, SCT, or Mak). If your obstruction is larger than 25% of the primary, you could also get a "ghost" image of that secondary mirror. In a refractor, you can go as low of power as you like.

Telescopes, Astronomy, Binoculars