From the
ATWB Customer Gallery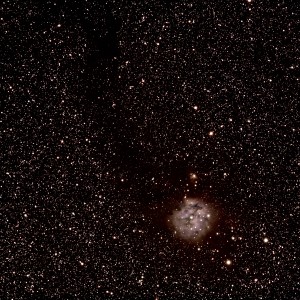 Cocoon Nebula
Finder Things
Cleaning house and have a few finder related things I would like to clear out of my collection. Everything is in good condition showing only minimal use except item 4 which is new and shows no wear.

Item 1 - is a combination finder base with mounting rings for a newtonian with a tube in the 8-12" diameter range. It has nylon screws to adjust the finder pointing angle. $20 including shipping CONUS.

Sold - Item 2 - are two Lumicon Spare Dovetail Bases for mounting Lumicon finder brackets (optical or laser finders) to your reflector or cassegrain telescope. With a radius-cut of 9.25", this base mounts snugly to virtually any reflector.  Pre-existing holes with center-to-center spacing of 1.0" to 2.1" may be used to mount the base using 2 screws, or 4 screws with 1.75" center-to-center spacing may be used. Due to shipping cost I will only sell these two as a set and both are in excellent condition. $20 including shipping CONUS.

Sold - Item 3 - Two Stellarvue items sold together. A Low Profile F2 Finder Base for SV Clamshells - F002A and a high base with dovetail foot for MRF finders. $20 including shipping CONUS.

Sold - Item 4 - New and never used Orion Orion Dual Finder Scope Mounting Bracket. Includes an additional finder scope base for mounting on your telescope. $20 including shipping CONUS.

Thanks for looking.

Telescopes, Astronomy, Binoculars