From the
ATWB Customer Gallery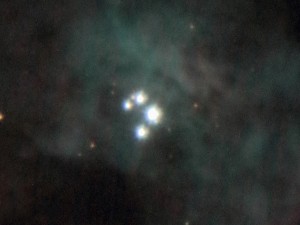 Trapezium via Siebert 36mm Observatory Series Eyepiece projection
Meade ETX Field Tripod Model 884
Meade Model 884 Field Tripod for sale.  This fits the older Meade ETX 90, 105 or 125 Telescopes.  It is the model which allows both Alt Azimuth and Equatorial mounting for the ETX telescopes.

The condition is very good.  Everything is clean and works as it should.

I can ship it but it could run into a few dollars due to the weight and size.  If you want it and are local, it would be worth it to pick up the Tripod or I could meet you if you are in North Jersey.

Telescopes, Astronomy, Binoculars