From the
ATWB Customer Gallery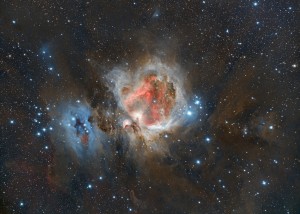 Orion and running man
2020 Losmandy GM811G with all upgrades & extras
Thanks for your interest to those that reached out. The mount is now SOLD to Charles Kollar.

I purchased this beautiful mount brand new from OPT in Aug 2020 so it came with Spring Loaded worms, Tucked in motors, and all currently available upgrades directly from Losmandy.

I added the RA extension kit so the mount can be effortlessly broken down into 2 lightweight pieces for storage and carrying without using any tools.

My scope (Takahashi TSA-120) came in Sep so I have since used this mount lightly between Sep till now mostly for visual and EAA (with Asiair pro and iPad) near my home after all the California wildfires cleared up in October. The mount is fantastic and is in excellent condition. About a month ago I obtained a RainbowAstro RST-135 for travel use which I plan to use as a grab & go setup going forward, so I don't have a use for the Losmandy mount anymore.

All items are working perfectly and in excellent condition. Very lightly used, no visible marks/scratches. Always used near my home and always stored indoors when not in use. 

Items for sale:
Losmandy GM811G all standard items, and extras
Losmandy GM811 GEM GoTo Mount W/ 11lb CW and LW Tripod - $2895
Losmandy RA Extension RAEXT - $295
Losmandy GPS unit for Gemini-2 - $150
Losmandy - Tripod Knob Set for Mounting - $29
Losmandy - Altitude Lock knob Set - $27
Losmandy AKS ALTITUDE KNOB SET (To replace Azimuth knobs) - $27
QHY PoleMaster iOptron IEQ30/45 & Losmandy G811 Adapter - $30
I have the original receipts I can share with you incase you end up needing it for warranty / maintenance purposes. The mount is less than a few months old and Losmandy has great support in case you need assistance.
Total brand new: $3453 (2895+295+150+29+27+27+30)
Asking price: $2700 for all items.
Not included above, but available if interested
:
Polemaster ($269 new) available for $200 to help with polar alignment.
ADM DUAL-M8- DUAL Series Saddle ($120 new) available for $100
I live in Saratoga, California (SF Bay area) and am happy to drive an hour or so and meet in person to avoid the shipping fee. Otherwise, I can ship to CONUS in the original packaging boxes.
If paying PayPal please add 3%. If paying by check, I will ship once the check clears.
Thanks for looking.
PS. Unclear why all the pics are horizontal with no way to rotate them. It shows correctly on iPhone & PC. Also, if you'd like more detailed pictures, please ask.
Arvind Kalyan
Saratoga, California

Telescopes, Astronomy, Binoculars