From the
ATWB Customer Gallery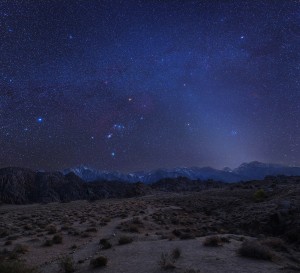 Orion setting over Mount Whitney
Celestron AVX mount - Hypertuned, in original box
Hypertuned Celestron AVX mount in excellent, little used condition
Includes: Tripod with eyepiece holding spreader
Nexstar+ handcontroller, with USB connectivity
11lb. counterweight
Power cable with cigarette battery connection
Polar scope
Apertura soft case

I got this for a lightweight portable mount for visual use, but found I'd rather use my old, push to TV Paramount. Its very easy to use, very accurate goto when its polar aligned, and all-star polar alignment makes that a snap. The details and printable manual are on Celestron's website. I used a Powertank to run it, it could go all night. Hypertuned, which makes it super smooth in both axes and very easy to load and balance, much better than new out of the box. It handles Vixen type plates.

$700 plus shipping. Will be shipped in original Celestron box. Paypal plus fees, check, cashiers check or cash.

I have a SkyFi unit if you want it. Add $100.
Thanks for looking!

Telescopes, Astronomy, Binoculars