From the
ATWB Customer Gallery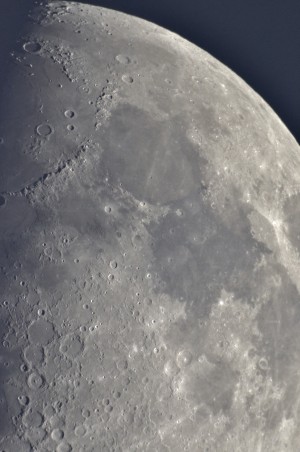 Moon Snapshot with Starmaster 11 "Shorty"
Celestron CGE Pro Mount & Tripod
Mount is in excellent condition, Heavy Duty Tripod is in Like-New Condition.
The mount/tripod comes with the following:
-CGE Pro Equatorial Head/Pier POD/Pier Adapter (Custom made)
-CGE Pro Heavy-Duty Tripod (not shown in photos)
-CGE Pro & CGE Pro Tripod Original Boxes
-CGE Pro 22 lbs each Counterweights x 2 (one shown in photos)
-CGE Pro Mount Photographic Capacity is 90 lbs. (regardless of Counterweights) 
-Celestron Nexstar Controller
-ADM knobs for both Equatorial Mounting Plate & Tripod (Original knobs included)
-Celestron CGE Pro Manual
Mount tracks perfectly, no problems with motors etc. It is well know that these mounts have to be well balanced
to get optimal results as my photos will attest to tracking abilities with round stars even with high power.
Mount has been well cared for and used only in my dome observatory for both visual and photographic.
Shipping from 86314 will be capped at $150 to the buyer and I will cover the remaining shipping costs.
I would be willing to travel up to 100 miles for delivery/meet and to save shipping costs (Phoenix, Flagstaff etc.)
Paypal would be fine (Friends & Family) or buyer to add 3% to cover fees. Personal checks excepted by well rated Astromart users
(check must clear before shipment)
Continental US Only Please
Thank you for reviewing my ad.
| | |
| --- | --- |
| EQ Mount Weight: | 75 lbs (34 kg) |
| Counterweight Bar: | 5 lbs (2.27 kg) |
| Counterweights: | 1 x 22 lbs |
| Weight (lbs): | 154 lbs (70 kg) |
| Payload Capacity: | 90 lbs (41 kg) |
| Motor Drive: | DC Servo motors with encoders, both axes |
| Slew Speeds: | Nine slew speeds 5.5 deg/s, 2 deg/s, 0.5 deg/s, 64x, 16x, 8x, 4x, 1x, 0.5x |
| Tracking Rates: | Sidereal, Solar and Lunar |
| Tracking Modes: | EQ North and EQ South |
| Alignment Procedures: | 2-Star Align, Solar System Align, Last Alignment, Quick Align, 1-Star Align, |
| Computer Hand Control: | Double line, 16 character Liquid Crystal Display; 19 backlit LED buttons |
| Database: | 40,000+ objects, 100 user defined programmable objects. Enhanced information on over 200 objects |
| Power Requirements: | 12 VDC 3.5A |
| Internal Clock: | Yes |
| GPS: | Optional SkySync GPS Accessory |

Telescopes, Astronomy, Binoculars