From the
ATWB Customer Gallery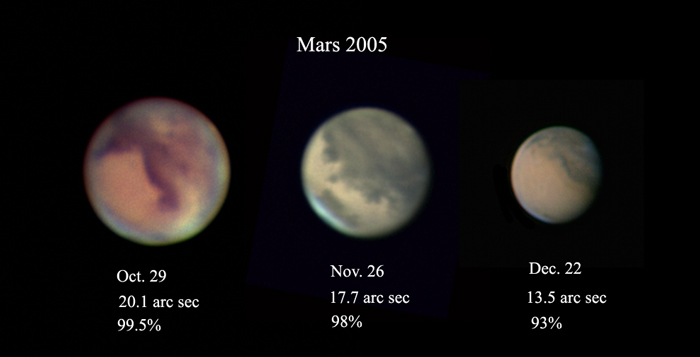 Mars_Oct-Dec_2005
Celestron CI-700 EQ Mount
Howdy,
I have a Celestron CI-700 mount available. This is a non-goto mount. I also have the tripod if someone wants that too. Price includes tripod, column, electronics, hand control, cables, polar scope, weights and shaft, and hardware.
Work great, and is Celestron's version of a G11.
Pictures availabe on request. 
Buyer to pay for shipping 
Let me know if you have any questions
The CI-700 Specs:
Bronze worm gears, stainless steel worm
Manufactured by Celestron using modern CNC machining technology
Losmandy D dovetail saddle plate and dual-axis drive system
Designed for very low periodic error, guider port included for photographic use 
1" solid, centerless ground shafts in both axes, 180 tooth gear (5.625" dia.) maintains minimum error for long exposure photography
.4375" dia. precision 303 stainless steel worm
High torque motors resulting in fast slew rates up to 20x
Preloaded bearings in both axes for smooth axis rotation and gear mesh,
Clutches with Slow motion controls in both axes
Polar Axis Finderscope
PEC (periodic error correction)
Backlash Compensation in Declination
Sidereal, solar, lunar and King tracking rates
.3x and .5x guiding rates
Saddle Plate accepts Losmandy D Rails,
22 lb. counterweight, Heavy Duty (3? Leg Diameter) Tripod, Machined aluminum and stainless steel
Maximum capacity of 60 lbs -  Originally sold to handle the 14" SCT

Telescopes, Astronomy, Binoculars