From the
ATWB Customer Gallery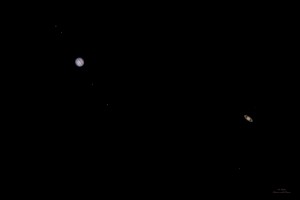 Saturn-Jupiter Conjunction 2020
EQ6R Mount with Pier Extension (and pier adapter available)
For Sale <6 months use EQ6R with EQ6R Pier Extension (to help clear long scopes from hitting the tripod). Tracks really well. Holds my somewhat heavy/long gear great. I'm just upgrading since I'm in a remote observatory and will be adding a 2nd scope to my pier.
This is the newer eq6r with a USB port.
NO Hand controller is included (see below, optional old laptop available)
Mount
Tripod (locks stable)
Counterweights
Car-lighter power cord
Built-in polar alignment scope works well
Additional 7 lb counterweight ($35.00)
EQ6R Pier Extension Tube & Hardware ($85.00)
Additional DC Power cord with DC 2.5mm Jack ($35.00)
I used a rubber tube to "friction lock" the pier extension onto my tripod. It worked great. I suggest you do the same :) Much easier than drilling through or shoving a bolt in. A silicon pad or bicycle tube works wonders to friction lock the extension tube.
Optional Starizona EQ6R Pier Adapter (very beautiful hardware btw) - $300
NO Hand controller is included
. This mount requires a computer to control it. It is currently set up in a remote observatory and I will go pick it up and deliver it if you live near Austin or Dallas Texas.
I am listing this early in hopes of finding a local buyer So when I pick this up from my remote observatory I can get it to your hands quickly and it won't sit in my house gathering dust. It is super heavy to ship, so I'd rather not ship it unless buyer really wants to pay to ship.
NO Hand controller is included - 
I will happily give you my old Lenovo imaging laptop - doesn't hold a battery charge very long but it works for imaging and you can leave it outside and not worry about it. Just needs to be plugged in.
I live in the Austin Area.  My last buyer bailed, so the Mount is currently with me at home. Prefer local pickup but can meet within a range for right buyer.

Telescopes, Astronomy, Binoculars