From the
ATWB Customer Gallery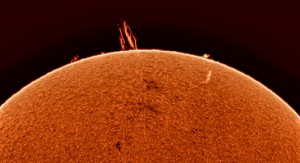 Large prominence 10/22/2020
For Sale Orion skyview pro Mount Extension
Selling an orion mount extension . height 16" weight 10 lbs. Its compatible with other mounts, not just orion. I had in on top of a cg5, with an AR5 refractor. could not do high objects without it.
Have sold the cg5,ar5, so extension no longer needed. It's very lightly used, some slight wear marks near the  upper tightening screws, otherwise , its in good condition.
It is listed for $99.99 new. asking $70, no fee for paypal and includes shipping CONUS.

Telescopes, Astronomy, Binoculars