From the
ATWB Customer Gallery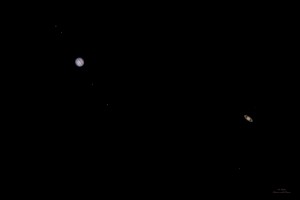 Saturn-Jupiter Conjunction 2020
Home built Equatorial Mount
Home built EQ Mount. Very sturdy and it weighs a lot. Main RA bearing is a large 2-1/2" pillow block and thrust plate riding on teflon pads. It moves very smoothly and also has a stepper motor based clock drive. The drive controller, pictured in the red box, is also home built. The Declination bearings are 1" pillow blocks

I used this configuration with a long FL refractor so I could only look to the south. This worked well for me since that was all the sky I could see anyhow. This is only being sold because I no longer have the refractor.  Otherwise it was a great mount that I used for 30 years. It has been recently refurbished and is in great shape. 

Shipping this is not an option. I live in Marlboro MA. You would have to pick up.


Telescopes, Astronomy, Binoculars