From the
ATWB Customer Gallery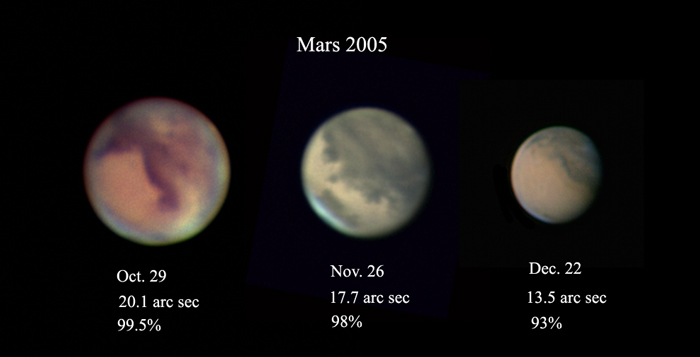 Mars_Oct-Dec_2005
iOptron CEM120EC w/tri-pier 360 (price reduced)
Why am I selling:
I originally bought this mount with the intent of setting up a home observatory, but life had other plans.  I moved to a new state, and my new home leaves much to be desired in terms of acceptable locations to set up.  I have been forced to downsize to something a bit more portable.  The mount has only been out under the stars around 10 nights since purchase, but it was incredibly easy to get set up for astrophotography.  Tracking and pointing are excellent. 
What comes with it:
mount
tri-pier 360
2 counterweights
hand controller
all of the original cables
Power Supply
*note: more pictures available upon request. 
William Optics GT 153 is not included in this ad; it is available under a separate classified ad.
Ok, so you're interested...:
I would honestly prefer to avoid shipping if at all possible.  Between the pier, mount, counterweights, and accessories, it is large and weighs quite a bit.  I am located in Connecticut and am willing to meet anyone within a reasonable distance.  I prefer Paypal due to the simplicity. 
What it is:
The CEM120EC was created by iOptron following the recognition that there was an increasing demand for accurate and stable equatorial mounts that also have the capability of carrying heavier instruments and more complex imaging arrays. This versatile mount is able to accept up to 115 lb. payloads, while retaining all of the benefits of iOptron's cutting-edge "center balance" design like natural stability, accuracy, and smooth mechanical operation. By focusing the weight of the mount and payload directly over the center of the pier or tripod, the CEM120EC Equatorial Mount offers natural stability.
 A low periodic tracking error of <0.15 arcsec RMS demonstrates the CEM120EC's performance. In addition to its natural stability, the CEM120EC contains an advanced cable management system that prevents entanglements and broken cables by providing additional ports. The CEM120EC provides the CEM family with some new features like WiFi and LAN for remote operation, and clutches on both axes that are easy to use and reliable.


iOptron CEM120 Equatorial Mount Highlights
A newly designed, center-balanced equatorial mount (CEM) with natural stability for up to 115 lb. payloads.
Observatory astrophotography mount optimal for imaging as well as visual applications.
Mount weighs 57 lbs.
Gear clutches are easy to use and reliable.
Adjustable counterweight shaft for 0º latitude operation.
Precision altitude and azimuth adjustment.
Precision stepper motor features 0.07 arcsecond accuracy for precision GOTO and tracking.
Conventional polar alignment for those who are unable to see the Pole Star.
Go2Nova® 8407 V2 controller features Advanced GOTONOVA® GOTO Technology with built-in heater.
High precision tracking with low periodic error (PE)<±3.5 arcsec.
Permanent periodic error correction (PPEC).
Integrated 32-channel GPS (Global Positioning System).
Built-in WiFi and LAN enables remote operation.
Includes ST-4 autoguiding port.
Advanced cable management system offers more options
Spring loaded Losmandy saddle is independently adjustable.

Telescopes, Astronomy, Binoculars